hours

Contact us

Vehicle tips
who we are
Automotive repair and maintenance facilities have been declared an essential operation during the COVID-19 outbreak. As such, we will remain open and be here to serve you. Please know that our first concern is the safety of our employees and customers. During this time, we will take additional precautions in servicing your vehicle. These measures may include using a seat cover, steering wheel cover, and wiping down door and shift handles. We will also ensure sick employees stay home. We may close our waiting room. Please call ahead for the most current information, but know that we are here to serve you and keep your vehicle running during these difficult times. Thank you for being a Bayside Auto Works customer.

Bayside Auto Works Offers Auto Repair Services You Can Count On!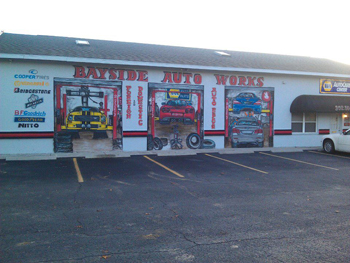 Since 2003, Bayside Auto Works has provided motorists in the Spring Hill, FL 34609 area with comprehensive auto repair services that include Car & Truck Care, Electronic Services, Electrical Services, General Services, Heating and Cooling Services, Engine & Transmission, Miscellaneous Services, Towing, Transmission Services, and Undercar Services. Our goal is to offer the best services available at affordable prices to get you back on the road in no time.

You'll be hard-pressed to find the same level of expertise that our auto mechanic specialists provide! We have years of experience working on both domestic and import vehicles of all makes and models and can work with you to find cost-effective repair and maintenance alternatives.

For a high-performing vehicle, trust Bayside Auto Works with your car, truck, or van. To learn more about the services we offer, please contact us by phone at 352-556-5255 or send us an email. We also invite you to learn more about our dedication to you, our valued customer.
We are an authorized installer for Intoxalock Ignition Interlock! Intoxalock is a top-rated ignition interlock provider with affordable pricing and a reliable, high-quality, easy-to-use device. Our certified Intoxalock technicians install, service and remove these devices. The Intoxalock on-site calibration station kiosk makes serving the device fast and simple Let us help you get back on the road after a DUI with an ignition interlock device.

If you need an ignition interlock device installed in your vehicle, call Intoxalock directly at (833) 918-1407 and mention that you'd like to install with us. They will set up your account and schedule your appointment.

Bayside Auto Works
13743 Linden Dr
Spring Hill, FL 34609
8:00AM - 5:30PM
8:00AM - 5:30PM
8:00AM - 5:30PM
8:00AM - 5:30PM
8:00AM - 5:30PM
Closed
Closed

Testimonials
Spring Hill, FL

Had Bayside Auto replace 2 turbochargers that were blown. Chris handled all the warranty issues with the warranty provider. Car is running perfectly with the new turbochargers which shows the experience and competency of auto mechanic specialists at Bayside auto. Thank you all.

Steve

, 11/22/2021

Went to Bayside today for an oil change and waited for the service to be completed. I was amazed and impressed how Chris (who was sick) handled the phone, customers, and service staff all the while being fast and pleasant. My service was done on time and the bill was as estimated. I will return and recommend.

Buck B.

When visiting family and friends in Spring Hill my car started having some serious issues. Knowing that I had well over 1,000 miles to get it back home to Ohio, I had to have it repaired. Worried that because I was from out of town that I would possibly have problems. I went to Bayside on the recommendation of a family member in Spring Hill. Greg and his staff looked the car over, found the problem and fixed it. The car runs great, and they did not overinflate the charges like I have had done to me before. I drove the car home, there were NO problems, the work was quality work and Greg and his staff are simply awesome! THANK YOU~

Vicki B. -Heath Ohio

Very impressed with the service. They are very friendly and professional. I am familiar with vehicle repair and they took me to the repair area and showed everything that needed attention and it was right on. They got my 2004 Taurus with 175k miles on it running and most important stopping like new. Highly recommended.

David B.

I don't normally write reviews, but I felt I had to write one for this business. Overall, my experience there was a pleasure...from Karen, the receptionist to the owner who was always available to answer questions . My car had some A/C problems and was diagnosed and fixed and I didn't have to pay an arm and a leg. They have a new customer now...I will trust them to make repairs at a fair price...all they while being courteous and professional.

Andrea, Spring Hill

I recently moved to this area and was very pleased to find a place with such great service. Everything was fixed to perfection. I found the prices to be very fair. The staff was extremely courteous and helpful. A five star business in my opinion.

ll Revett - Spring Hill, FL